Mexico is undoubtedly one of the most preferred and cherished holiday destinations in the world. This Caribbean paradise has everything that a tourist can wish for – amazing treasures of art and history, vibrant nightlife, breathtaking ancient Mayan ruins, exotic wildlife, picturesque jungles, cobbled streets, lively ambience and of course, spectacular golden beaches.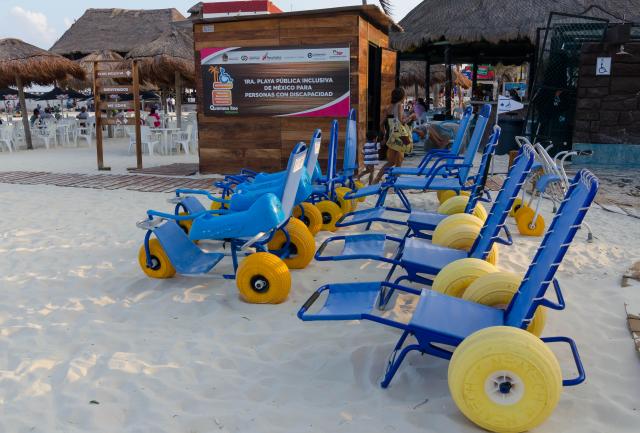 Mexico is also known for its pleasant hospitality and the country ensures that each and every visitor is welcomed with the same amount of love and care irrespective of how varied the needs are. As a matter of fact, major tourist towns like Playa del Carmen and Cancun are well furnished with amenities to ensure that even the elderly and  tourists with physical disabilities are protected –not discouraged from having a good time.

In February this year, Mexico's first 'disabled-friendly' beach was opened in Playa del Carmen. Positioned in the heart of the tourist hotspot of Playa del Carmen, this disabled-friendly beach is financed by the local government of Playa along with support from some other government social service agencies of Mexico.

This out of the ordinary beach offers shade, showers, drinking water, specialized aquatic equipment and assistance for the elderly and physically disabled to help them enjoy the inviting sands and crystalline waters of the Caribbean ocean.

Caroline, from Canada, suffers from osteoarthritis, is overweight and has trouble walking. She always had a dream to visit the paradise beaches of Mexico but was reluctant to do so due to her disabilities. Her dream turned into reality recently when she visited this first of a kind beach in Mexio. She had the most amazing experience and looks forward to coming back very soon.

One of the most beneficial facilities installed on this beach is a long, stable boardwalk for easy access to the edge of the water. This boardwalk comes in quite handy for all those on wheelchairs, or those who need crutches or canes or any kind of special assistance to walk through the sands and reach the water safely.
Read more HERE